Timetable for the Conference

To see each day's program schedule click on "contributed talks" in the overview above.
On Monday, the conference desk opens at 8.30am. It is located in room MA143. Signs will guide you there. All other days, the conference desk opens around 9.00am.
Social Program
We will post maps and guides to the locations on Wednesday/Thursday here and in MA144.
Get Together Party
There will be an informal get together on Sunday evening (September 4, 18h-22h) in the library of the mathematics building of the Technical University of Berlin. There will be some drinks and snacks. Simply drop by and relax from traveling... When registering for the conference, please indicate whether you wish to attend.
Excursion and Award Ceremony
On Thursday afternoon (September 8) we are guests in the celebration hall of the Berlin Academy of Sciences where the European Prize in Combinatorics will be awarded. The location is at Berlin's most beautiful square: the Gendarmenmarkt (find the entrance to the Academy opposite the Konzerthaus which is the red 9 in your city map, square H4). From there, the conference dinner is within walking distance, and we will have guided tours or you explore the surroundings on your own.
Conference Dinner
The conference dinner will take place on Thursday (September 8, around 19.00) at the Hörsaalruine of the Berliner Medizinhistorisches Museum: In the ruin of a lecture hall of the famous Charité university hospital. (In your city map, the museum is in square G3.)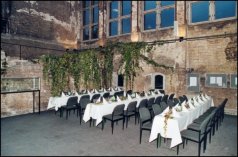 Nowadays the building serves as a museum and convention center. We will have dinner right in the middle of old documents and some more exhibits you wouldn't immediately think of when talking about dinner...